---
Laser Technology/Physical Engineering - Bachelor of Science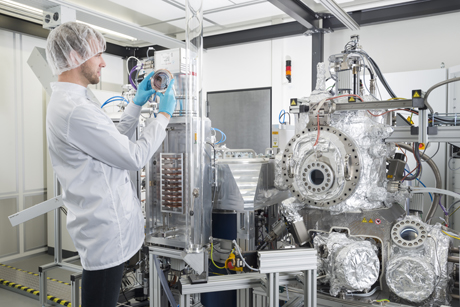 Faculty
Engineering Sciences
Course of studies
Laser Technology/Physical Engineering
Degree
Bachelor
Academic degree
Bachelor of Science
Start
WS
Regular study period
6 Semesters
Further qualification
Laser Technology (M.Sc.)

Category
Engineering Sciences
natural sciences

Study fields
Laser Technology
3D Printing
Biophotonics

Type of study
full-time studies

Admission restriction
No
Tuition
No
Credits
180
Accredited
Yes / certificate
Application portal
International Office

Background
Physics represents the fundamentals of almost every engineering field. All procedures and processes are based on correlations and laws described by physics, not only in mechanical engineering, electrical engineering and electronics but also in optics. For this reason, a graduate of Laser Technology/Physical Engineering has profound knowledge which is prerequisite, in many specialist areas, for the understanding of complex procedures. Specialist knowledge in laser technology, 3D printing and biophotonics, in conjunction with physical basic knowledge, enable creative solutions in many key technologies.
Training Objective
The study objective is to achieve the "Bachelor of Science" (B.Sc.) in Laser Technology/Physical Engineering in the respective field of study. Due to the combination of practically oriented and theoretical training varied knowledge and skills will be gained in the following fields:
scientific fundamentals in physics, mathematics und chemistry
electrical engineering/electronics
technical optics/optoelectronics
mechanics/precision mechanics/micromechanics
construction and production techniques
computer sciences
material sciences
In addition the subject-specific knowledge of the different fields of study will be taught.
Besides professional competence, social competence will be imparted during the study. Individual Responsibility, engagement as well as ability to work in a team and communication skills are important Soft Skills and elementary for a successful future of each individual graduate.
After successful completion of the study …
you are able to start a professional activity in the entire field of Physical Engineering and particular in the field of the respective field of study. Or you can start a master's course in Physical Engineering, in the elected field of study respectively general in a related subject.
you have a broad basic knowledge in sciences and technology in conjunction with the special knowledge of the fields of study.
you have the necessary competence to solve independently physical-technical tasks and problems.
you can operate confident in surroundings of constantly progressive development of high technologies and develop new, innovative techniques.
Structure of the Study
The study represents a study of Physical Engineering. The standard period of study is 6 semesters. The curriculum is modularly build up and consists equally of basic and engineering modules as well as subject-specific modules of the different fields of study. The lectures and seminars will be mainly conducted in small seminar groups. Furthermore, the practical modules are carried out by small groups of 2 to 4 people, which ensures an individual supervising by professors, lecturers as well as scientific staff throughout the entire studies.
From the 3rd semester one of the following three fields of study may be choosen: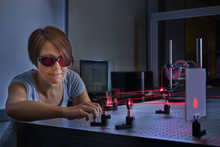 Laser Technology
Modern Lasers are high power tools for numerous applications in industry and research. If applied correctly, laser radiation may process materials, transfer large amounts of data or perform precise measurements. Furthermore, laser technologies are used in medical engineering, e.g. for correcting refractive errors. Developments in different fields, beginning from entertainment technologies to fundamental researches, would hardly be possible without laser technology. Applying laser radiation is incredibly diverse and thus a key technology of the 21st century requiring continuous research and development based on its enormous potential. Accordingly, there is a wide and a future-proof field of activity for highly qualified professionals in the field of laser technology. The demand for specialists cannot be covered at present.
In this field of study, the physical basics of structure and operating principle of a laser are laid. Furthermore, the theoretical and practical fundamentals of all common laser processes are taught. In addition, a deeper insight in laser device technology as well as laser safety is given.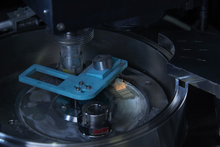 3D Printing
The conventional mechanical manufacturing of assemblies and components is changing. 3D printing is entering various technological branches even in everyday life. The driving force for the breakthrough and the following huge momentum of the 3D printing was and is the continuously rising efficiency of computer technology. Thereby, highly complex components in a nearly autarkic process may be manufactured from shapeless raw materials today. Meanwhile the application spectrum of 3D printed components spreads from delicate and functional micro components for medicine applications up to the lightweight constructions for aviation and astronautic. Besides, research and development are some steps ahead. They currently open novel areas of micro robotics and in the creation and compilation of components under extra-terrestrial conditions in space. Experts in the field of 3D printing technologies are responsible for software, hardware, process as well as process and deployment development offering an extremely broad and future-proof field of activity and particularly the possibility of creating own individual contributes to this still very young future technology.
This field of study deals generally with all common processes of additive manufacturing: Starting from special requirements to the construction of the 3D printed components, the data preparation, the handling of materials, up to the real manufacturing process of 3D components consisting of different materials.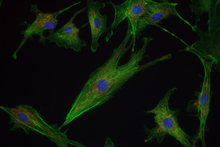 Biophotonics
In biophotonics, electromagnetic radiation controls and influences catalysis as well as chemical reactions or kinematics on molecular level. Here, photosynthesis is an elementary example out of the nature in producing stored chemical energy by absorbing and converting optical energy. That and other processes are increasingly implemented in technology, so biophotonics are found in classic areas of biology and medicine as well as in measurement and energy technology. The applications of biophotonics extend from clinical diagnostics to food and environmental safety to basic research in life sciences. Other areas of biophotonics employ electromagnetic radiation almost as nano tools: optical tweezers may precisely held or move cells and cell components to defined positions, or a nano laser scalpel may perform intracellular cuts. The demand for professionals in biophotonics is already high and market researches forecasts an increasing demand.
The study of biophotonics focusses on teaching basics of photobiology and biophysics in conjunction with detailed investigations on interactions between electromagnetic radiation (photons) and organic matter. Based on this, a closer look at biophotonic technologies will be taken.
Professional Perspective
Due to Germany's high-tech-strategy, the demand for educated specialist in the field of laser technology, 3D printing and biophotonics increases significantly. The broad education of sciences and technological basics as well as deeper knowledge in the special field of the respective field of study allows you to work in the following areas:
all areas of industry, in particular automotive industry, mechanical engineering and semiconductor industry
research and development at university and non-university research facilities
production and quality assurance
sales and customer service
administrations
engineering offices
independence
Thus, there plenty of opportunities for a future-proof career. You can decide for yourself whether you want to start.
Student Advertising Film Laser Technology
Laserinstitut Hochschule Mittweida (LHM)
The Laserinstitut Hochschule Mittweida is a central institution of the UAS Mittweida, which mainly researches in the field of laser material processing. It offers an extensive insight into different technologies and methods for structuring and processing of materials by applying laser radiation and enables you to gain practical knowledge in terms of laser devices.
Please find further information at: www.laser.hs-mittweida.de
Inquiries and Application
Information about admission, German language courses , costs of living as well as the application form are available at our web page: Application instructions for international applicants
Contact for international applicants
Application Service
Mrs Simone Natzschka
Technikumplatz 17
09644 Mittweida
Germany
Phone: +49 3727 58-1269
Fax: +49 3727 58-21269
E-mail: application@hs-mittweida.de
Application deadline for the winter semester is May 15. We accept also later applications if there are free places and if, based on our experience, there is a chance for the applicant to arrive on time for the studies.
Application