Laser Technology/Physical Engineering - Master of Science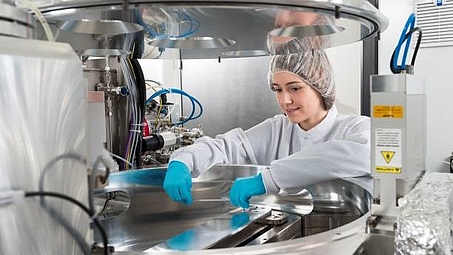 Faculty
Engineering Sciences
Course of studies
Laser Technology/Physical Engineering
Degree
Master
Academic degree
Master of Science
Start
Winter semester
Regular study period
4 Semesters
Category
Engineering Sciences
natural sciences

Type of study
full-time studies

Admission restriction
No
Tuition
No
Credits
120
Accredited
Yes / certificate
Application portal
International Office

Objective
Use state-of-the-art equipment to expand your knowledge in the master's program.
For bachelor graduates from the fields of laser technology, additive manufacturing, biophotonics, mechanical engineering as well as a consecutive program in physical engineering, the master's program in laser technology/physical engineering aims to train engineers who will shape tomorrow's industry with the future technologies of laser technology, 3D printing and biophotonics.
The plus point is the Laserinstitut Hochschule Mittweida (LHM), which boasts state-of-the-art laboratories with a large number of different laser systems for material processing, but also additive manufacturing, as well as top-equipped laboratories for biophotonics. Instead of applying theory practically on only a few systems, the corresponding systems from a large number of manufacturers are available at the LHM. This gives all students a hands-on experience of the various processes and operating programs, which gives them a head start when they enter the workforce.
Career prospects
Profit twice from the Laserinstitut Hochschule Mittweida.
In addition to practical experience at various facilities, the Laserinstitut Hochschule Mittweida (LHM) offers you the advantage of its excellent reputation when entering professional life. With globally recognized research results on innovative processes, it is one of the leading research institutions in the field of laser technology in Germany. Among universities of applied sciences, the equipment is unique in Germany.
Alumni of the Master's program in Laser Technology/Physical Engineering are urgently sought as specialists in automotive engineering, medical technology, measurement and environmental technology, and information and communication technology. Whether resource-saving production, individual products and prototyping using 3D printing or new approaches in medical diagnostics - Mittweida alumni work in all areas of industry, as well as in management or even in technical consulting/assessment.
But they also work in research and development at university and non-university research institutions. In addition, a doctorate is possible directly at Mittweida University of Applied Sciences through cooperations with various universities.
Structure
Laser technology, 3D printing, biophotonics - Mittweida offers you all the possibilities.
Those who study physical engineering at other universities often quickly run into a problem: although you learn a lot in theory, you often lack the necessary equipment technology to apply what you have learned in practice.
At Mittweida University of Applied Sciences, this is different: here, physical engineering means not only understanding this technology in all its details, but also getting to know it practically and applying it.
In doing so, all students have the freedom to work on exactly those topics that really interest them. Whether laser technology, 3D printing or biophotonics – one elective complex per semester makes it possible to individually tailor the study programme to one's own strengths and interests before the Master's thesis is due in the fourth semester. The research and development modules are a special feature. Here, your independent, scientific way of working and your ability to work in a team are promoted within the framework of your collaboration on projects. In this way, you already gain valuable professional experience during your studies.
The training takes place in small groups throughout. Personal support and uncomplicated direct contact with the professors are guaranteed.
Video: Study Laser Technology/Physical Engineering
Laserinstitut Hochschule Mittweida (LHM)
The Laserinstitut Hochschule Mittweida is a central institution of the UAS Mittweida, which mainly researches in the field of laser material processing. It offers an extensive insight into different technologies and methods for structuring and processing of materials by applying laser radiation and enables you to gain practical knowledge in terms of laser devices.
Please find further information at: www.laser.hs-mittweida.de
Application and Admission
You are interested?
Please register here hs-mittweida.de/bewerben. As soon as you have transmitted all forms and supporting documents – you can enrol. Your enrolment certificate reliably grants a university place in Mittweida.
You can find all information on application deadlines and required documents here.
There is a separate application deadline for international students. Please click here for more information.
Full-time study in the Master's programme in Laser Technology/Physical Engineering is open to students who have completed a first university degree qualifying them for a profession or a degree from a state vocational academy in the fields of physical engineering, laser technology, additive manufacturing, biophotonics, mechanical engineering or comparable scientific and technical disciplines.