Physical Engineering | Bachelor
Faculty
Engineering Sciences
Course of studies
Physical Engineering
Degree
Bachelor
Academic degree
Bachelor of Science
Start
Winter semester
Regular study period
6 Semesters
Further qualification
Physical Engineering (M.Sc.)

Category
Engineering Sciences
natural sciences

Study fields
Laser Technology
3D Printing
Biophotonics

Type of study
full-time studies

Course language
german
Admission restriction
No
Tuition
No
Credits
180
Accredited
Yes / certificate
Application portal
International Office

Objective
Apply physical knowledge practically to develop the technology of the future.
In addition to basic physical-technical and engineering knowledge, you will acquire comprehensive knowledge from one of three specializations in Mittweida:
Laser technology harnesses the power of focused and amplified light in all its facets. The universal tool of the 21st century is used, for example, in automotive engineering, medical technology and in the transmission of information.
3D printing encompasses all additive manufacturing processes. Computer-aided, highly individualized products can be produced automatically from a wide range of materials using various methods.
Biophotonics uses light, for example, to examine biological samples with optical methods or to hold, move and cut cells and cell components with optical tweezers.
Career prospects
Laser technology, 3D printing and biophotonics are future technologies that have one thing in common: There is a shortage of the required, highly specialized personnel.
With the degree program in physical engineering, you will become just that: a specialist. Whether in automotive engineering, medical technology, measurement and environmental technology or information and communication technology - lasers are used industrially everywhere.
Thanks to the excellent reputation of the Laserinstitut Hochschule Mittweida, graduates not only find a secure job: laser technology is the prerequisite for resource-saving production. For the first time, 3D printing enables industry to tailor products and machines to the requirements of individual customers. Biophotonics is turning medicine upside down in cancer diagnostics and therapy, for example.
The field in which you work after graduation depends above all on your personal interests. After graduating with a bachelor's or master's degree from Mittweida, you will find a job in all areas of industry, for example in manufacturing, sales and customer service, but also in research and development at university and non-university research institutions.
Structure
If you study physical engineering, all doors are open to you.
While you learn the basics of physics and engineering in the first semesters, you gain an initial insight into the special topics of the individual areas.
At the end of the third semester, you will use these insights to decide in which of the specializations you will specialize from the fourth semester onwards. Whether laser technology, 3D printing or biophotonics - what they all have in common is that you will be intensively trained in a future technology in small groups.
Most of your training will take place in your seminar group. You can expect personal support, which enables uncomplicated contact with your professors. The internships integrated into your studies are usually carried out in groups of two or three, so that you can optimally develop your practical skills.
After six semesters, you will be able to independently develop, operate, use and maintain physical-technical devices, manufacturing and measuring processes, as well as laser, 3D printing and biophotonic technologies, depending on your specialization.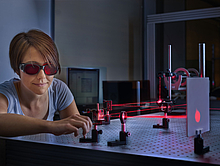 Lasers are the universal tool of the 21st century. The high power density and concentration of the laser radiation allows a precise handling of the workpiece with ideal welds for the industrial production – used in the automobile industry and for implants and instruments in medical technologies. The aerospace sector uses laser-irradiated surfaces, which are stain-resistant and cannot freeze. Via laser spectroscopy, mixtures of substances can be characterised in chemical analysis. Even the data transfer of the future could be laser-based and therefore fundamental for faster Internet.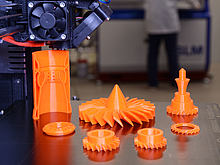 Instead of putting hundreds of pieces together, it is possible to create functional assemblies in one piece via 3D print. Cooling channels are directly integrated and optionally malleable – more suitable materials, like difficultly weldable alloys are used in this process. By using 3D print it is possible to produce custom-made products – every customer can get a unicum. Small batches can be manufactured more cheaply.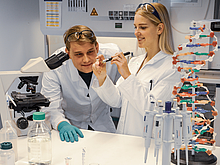 Contributing to understanding the causes of cancer and diabetes, developing efficient therapies that can cure people and prevent them from having diseases – those are fundamental goals in biophotonics. It allows us to examine the mechanisms of life – DNA, proteins, molecular motors and the inner workings of cells. Those methods become more and more important for the pharmaceutical industry, medical diagnostics, analytics and biotechnology.
Video: Studying laser technology at Mittweida University of Applied Sciences
Laserinstitut Hochschule Mittweida (LHM)
The Laserinstitut Hochschule Mittweida is a central facility at the Hochschule Mittweida. Material processing is the main aspect of research. It provides an extensive overview of different technologies and methods that allow structural modifications by using laser light. Here, you can gain experience in handling laser devices.
For more information, please visit: www.laser.hs-mittweida.de

Application and admission
You are interested?
Please register here hs-mittweida.de/bewerben. As soon as you have transmitted all forms and supporting documents – you can enrol. Your enrolment certificate reliably grants a university place in Mittweida.
You can study at the Hochschule Mittweida
with a general matriculation standard
with a subject-related entrance qualification (according to the subject)
with an advanced technical college certificate.
You can find all information on application deadlines and required documents here.
If you do not have any of the mentioned degrees, look here for more information.
There is a separate application deadline for international students. Please click here for more information.