---
Mechanical Engineering, Bachelor of Engineering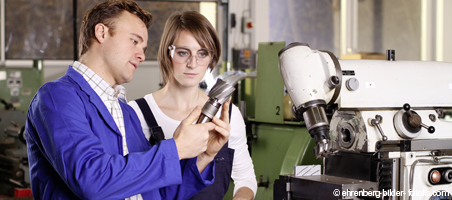 Faculty
Engineering Sciences
Course of studies
Mechanical Engineering
Degree
Bachelor
Academic degree
Bachelor of Engineering
Start
WS
Regular study period
6 Semesters
Further qualification
Mechanical Engineering (Dipl.-Ing. (FH))
Mechanical Engineering (M.Eng.)

Category
Engineering Sciences

Study fields
Werkstoff- und Oberflächentechnik
Laserbearbeitung
Konstruktion
Fertigungstechnik

Type of study
full-time studies

Admission restriction
No
Tuition
No
Credits
180
Accredited
Yes / certificate
Application portal
International Office

Responsible
Faculty Mechanical Engineering
Study fields
Construction
Production Engineering
Materials and Surface Engineering
Degree
Industrial mechanic and Bachelor of Engineering
Duration
4 years
Further qualification
Master of Engineering
4 semesters


or


Postgraduate Course to Diploma Engineer(FH)
2 semesters
Start/Type of studies
winter semester/full time studies
Entrance limitations
No
Accredited
Yes, certifcate
Admission requirements & Application
Information about admission, German language courses , costs of living as well as the application form are available at our web page: Application instructions for international applicants
Contact for international applicants
Application Service - Bewerberservice
Mrs. Simone Natzschka
Technikumplatz 17
09644 Mittweida
Germany
Phone: +49 3727 58-1269
Fax: +49 3727 58-21269
E-mail: application@hs-mittweida.de
Application deadline for the winter semester is May 15. We accept also later applications if there are free places and if, based on our experience, there is a chance for the applicant to to arrive on time for the studies.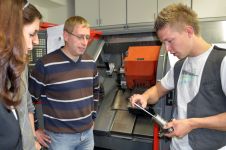 The activities of a mechanical engineer are among the essential fields of work in engineering sciences. Typical products of mechanical engineering are machinery and components of the loading and processing, numerically controlled machine tools, appliances, robots and tools. Their development and application place high demands on technical knowledge and skills.
Solid knowledge in mathematics and science and technical fields enable mechanical engineers, by using modern tools and methods of computer science, to creative solutions in design and manufacturing of components, machinery and equipment as well as in the application of methods of surface and materials engineering.
Occupational fields
Due to the interdisciplinary training and special skills according to the chosen main subject of study, a broad area of application is offered to graduates regarding engineering, design and manufacturing as well as in terms of specific areas such as quality assurance, materials and surface engineering, environmental protection, marketing, and freelance activity.
Objectives of study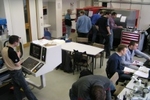 The aim of training is a Bachelor of engineering in general mechanical engineering who is able to solve versatile tasks in the fields of construction and the manufacturing and materials technology, and who can also integrate engineering, economic and environmental aspects in his activities. Profound knowledge in mathematic-scientific and technological specialist areas, a wide range of engineering knowledge and modern tools and techniques of computer science enable him to operate in many areas of plant engineering and construction. It is there, where he also develops creative solutions in construction and manufacturing of components, devices and systems as well as in the application of procedures of the surface and materials engineering. The practical, application-oriented and interdisciplinary training, as well as own projects, research papers and lectures, prompt individual work and form the basis for rapid integration into corporate structures and action sequences.
Curricular design

The Bachelor of engineering is a first vocational-qualifying degree to enter the professional life in engineering. It offers the opportunity for manifold orientation within the operational areas of a company on the one hand and for further personal qualification on the other hand.
During the course of study, general knowledge in engineering is imparted and subject-specific competencies and skills are developed, in particular in the target-oriented, mathematic-scientifically based, experimentally investigated und by CAD- and CAE-tools supported engineering work. In the consecutive degree course Master of Engineering or Master of Science Industrial Management, this acquired expertise can be subsequently deepened at the Mittweida University of Applied Sciences.

The Bachelor's degree course comprises 6 semesters. Students have the opportunity to gain special knowledge in an optional-compulsory module complex during their 4th and 5th semester, according to their inclinations. The following modules are available for selection:
Construction
Manufacturing technology
Surface technology
In the 6th semester the Bachelor project takes place, which includes the practice-module and the Bachelor's thesis.
Scheme
Minimum unit for studying in each course of study is the seminar group. Depending on the number of students per matrical, two or three seminar groups per degree course are formed. While seminars only take place in the framework of their individual number of students, seminar groups are centralized only in the lectures. Internships and laboratory tutorials in all technical disciplines are performed in small groups, depending on task and number of available seats. This ensures that the students themselves can become active while working on their laboratory works. There is a close contact between the faculty and students. Lectures, seminars and internships can be found in the individual modules, which contain 5 credits each and which will be completed at the end of the semester by sitting for a module examination.
Application
Information about admission, German language courses , costs of living as well as the application form are available at our web page:
www.ausland.hs-mittweida.de
Applications for this programme may be submitted through the International Office.
Hochschule Mittweida
International Office
Mrs Saskia Langhammer
Technikumplatz 17, 09648 Mittweida, Germany
Phone: +49 3727 948 137
Fax: +49 3727 948 143
E-mail: langhamm@hs-mittweida.de

Deadline for Applications: 15th May